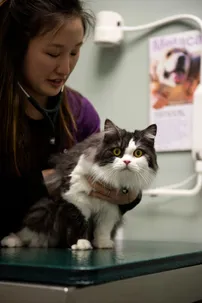 Patients are seen by appointment. If you arrive as a walk in, we will do our best to see you and your pet as soon as possible. However, you should understand that priority is given to clients who have a scheduled appointment.
All clients are notified 24-48 hours prior to their appointment. At this time, we will remind you of any specific instructions based on the appointment reason or as per the recommendations of our doctors.
We ask that new clients call their previous veterinary hospital to request their records be transferred to us. This can be done via fax or email. This is an important step to ensure continuity of care for your pet. If you are uncomfortable taking this step, we are happy to provide this service.
Safety dictates that your pet is leashed or in a carrier when you enter the hospital. These items are always available for you to borrow. Many dogs and cats are nervous when coming to our office, so this measure ensures that all pets are kept calm and in control. If you are concerned about your pet's behaviour during travel to, or at the hospital, please call us ahead of time to discuss how we can reduce stress, fear and anxiety in your pet.
You can read more about our Cat Friendly initiative in the section "About our Hospital".
Your pet will be weighed at each visit. This is an important part of your pet's medical record.
We use treats regularly during your pet's visit to our hospital. This helps create a positive response to the new environment. If your pet has dietary restrictions, you are most welcome to bring treats from home.
Please note that if your pet had a fecal parasite test, blood parasite test (heartworm and tick) or pre-operative blood test during their exam, you will be contacted within one week if there are any abnormalities. Otherwise, no news is good news!
Our doctors have many years of experience handling pets with a variety of temperaments. They will work with you to find the best technique for examining your pet. If you would prefer that a veterinary assistant be present to help hold your pet, please let us know as we are happy to accommodate this request.
If your pet has previously shown aggression or fear when being handled (biting, growling, clawing) it is important to let the doctor know ahead of time. There are many strategies that can be used to reduce your pet's stress and keep everyone safe.