We believe that it is our responsibility to share our success with our local and global community. Our participation in charitable causes, both human and animal, is our way of doing so.
THE FARLEY FOUNDATION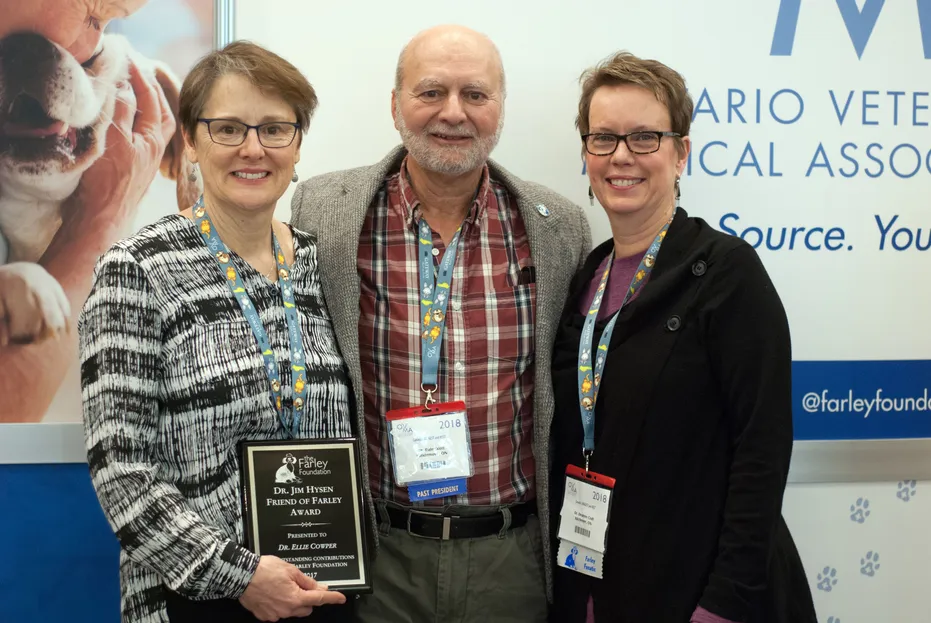 Dr. Cowper & Dr. Croft being presented with the 2018 Friend of Farley Award
Every year we also ask our Chicopee Hills Family to participate in our Fundraise for Farley month and we are never disappointed. It is heartwarming to know we are surrounded by such a caring and generous community.
Veterinarians have long recognized the special and important relationship that exists between people and their pets. It has become widely recognized that this human animal bond contributes to the health and well being of humans in many ways.
In 2001, The Farley Foundation was established by the Ontario Veterinary Medical Association (OVMA) to provide subsidized medical and emergency veterinary care to people who could otherwise not afford it. The Farley Foundation has raised over 1 million dollars and helped over 11,500 pets since opening its doors in 2002.
Chicopee Hills Animal Hospital has been involved with this wonderful foundation since its inception through our participation in Farley Fun Days and the Ride for Farley.
VISIT THE FARLEY FOUNDATION WEBSITE
2021 FUNDRAISING:

Join Us! Team Chicopee is raising funds for THE FARLEY FOUNDATION. Things might look a little different this year, but that wont stop us from raising funds for pets in need. Learn more & DONATE here!
MONA CAMPBELL CENTRE FOR ANIMAL CANCER
Canada's most comprehensive animal cancer treatment and research centre opened Sept 20,2012 at the Ontario Veterinary College (OVC) University of Guelph. The Mona Campbell Centre for Animal Cancer offers the most advanced tools for cancer diagnosis, treatment and teaching.
The centre emphasizes an interdisciplinary team approach to treatment, ranging from medical, radiation and surgical oncologists, technicians, interns, graduate students and support staff to a clinical counsellor for clients making difficult decisions for their pets.
Drs. Ellie & Dee were pleased to contribute to this worthy endeavour and were present for the grand opening of the cancer centre.
Click here to see our plaque that is present at the OVC Animal Cancer Centre.
Read the press release OR visit the Ontario Veterinary College Website.
OVC PET TRUST FUND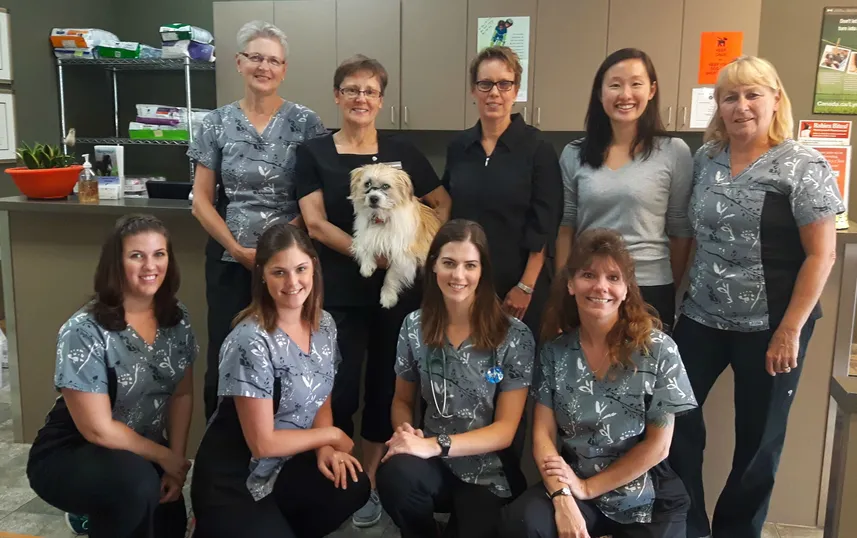 OVC Pet Trust Mission: OVC Pet Trust honours the relationship between pets, their people and veterinary care givers. We do this by raising funds and supporting learning, healthcare and research at the Ontario Veterinary College.
We have supported and continue to support this amazing charity since we opened in 1997.
Watch this video to see why we're inspired (have your tissues handy!)
VETERINARIANS WITHOUT BORDERS/VETERINAIRES SANS FRONTIERES
Our mission is to work for, and with, communities in need to foster the health of animals, people and the
environments that sustain us.
This is what we call an ecosystem approach to health. Ecohealth: one health for everyone, everywhere.
Please visit the Veterinarians Without Borders website to learn more about this amazing organization.

ZONTA CLUB OF KITCHENER WATERLOO/Member of ZONTA INTERNATIONAL
Zonta International is a leading global organization of professionals empowering women worldwide through
service and advocacy.
The Zonta Club of KW was chartered in 1978. Our members work to improve the quality of life for women & girls through fundraising, charitable giving and by recognizing outstanding community members through scholarships and awards. We also support local charitable and not-for-profit organizations with service grants.
Chicopee Hills Animal Hospital has been a proud supporter of Zonta since 2007. Donations made to the Betty Thompson Golf Classic support local women's health initiatives while donations to the Annual International Women's Day Event support Zonta International Projects.
Visit www.zonta.org & www.zontakw.org or on their twitter accounts at @zontakitchenerwaterloo @zontakw to learn more!
PET FOOD DRIVE
We are happy to participate in the annual Christmas pet food drive for the Food bank of Waterloo Region.
If you would like to make a pet food donation, contact us in December and we can provide details on how to donate pet food items.