We are pleased to offer canine rehabilitation and physiotherapy services!
Our affiliation with CanineTech Rehab makes this referral service convenient for you and your pet.
Canine rehabilitation and physiotherapy can treat a variety of conditions including but not limited to:

Canine Hip Dysplasia

Arthritis

Post-Op Healing (orthopedic or spinal surgeries)

Cranial Cruciate Ligament Injuries (ACL)

Patellar Luxations

Intervetebral Disc Disease
CanineTech Rehab Hours
Tues: 8:00am – 12:00pm
Thurs: 2:00pm – 6:00pm
CanineTech Rehab services take place within our hospital. Referral, by a veterinarian, is essential before an assessment and treatment can take place. Patients from referring clinics are welcome!
Please be aware that we will not provide veterinary services to referral client pets. This enables us to maintain a professional and ethical relationship with referring veterinarians.
Canine Rehab Therapist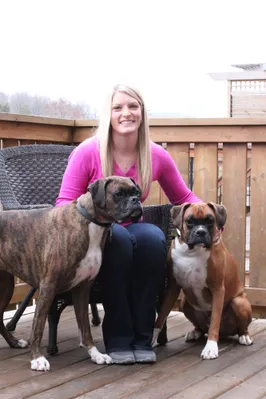 Cheryl Reid Ralph
B.Sc. PT, B.Sc. (Biology), Dip. Manip. PT, FCAMPT,
Dip. in Canine Rehab, Registered Physiotherapist, BodyTech Physiotherapy Clinic Co-Owner
Cheryl Reid Ralph has over 10 years of experience as a registered physiotherapist and has chosen to pursue her passion for rehabilitation by becoming certified in Canine Rehabilitation. Cheryl is the co-owner of CanineTech Rehab, as well as BodyTech Physiotherapy, a neighbouring business in the Chicopee Park Plaza.




Articles – For pet owners

- Benefits of Canine Physiotherapy and Rehabilitation


Resources:
- Animal Rehabilitation Division
- Canadian Physiotherapy Association


Call 519-748-6638 today to learn more about this service!