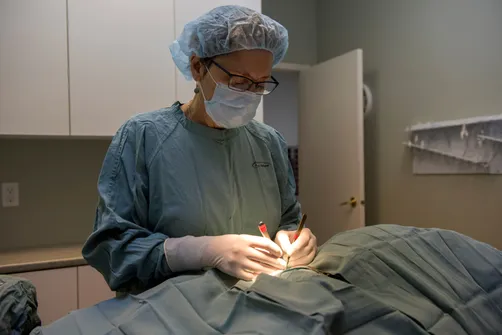 We are an accredited companion animal hospital, which means that we also provide surgical services to our patients. These include routine elective procedures such as spay, neuter, lump removals as well as more advanced procedures involving many organ systems – e.g. gastro-intestinal, urinary, musculoskeletal.
We strongly recommend that every pet undergoing a general anaesthetic have blood work done beforehand. This is one method of ensuring the safe outcome of the procedure. We have many other methods of ensuring the safety of your pet. We measure blood oxygen levels, and blood pressure throughout the anaesthetic period; all patients are placed on intravenous fluids which maintain organ perfusion, a circulating warm water heating pad helps maintain a healthy core body temperature and most importantly, our RVT is monitoring your pet throughout its surgery and recovery. The anaesthetic we use is tailored to the needs of your pet.
If a patient requires an advanced surgical procedure that requires a specialist's attention, we have a good working relationship with several board-certified surgeons in the surrounding region, all within a 1 hour drive.