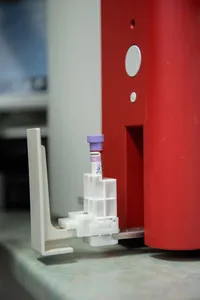 For more extensive analysis, blood samples are sent to Idexx Reference Laboratory in Markham. Through this professional laboratory we are able to run even the most complex and cutting edge tests for our patients and we have access to the expertise of Board Certified Pathologists who are trained to interpret laboratory results in all species.There are many reasons that we perform blood work on our patients. An on-site diagnostic laboratory enables us to perform blood tests in a timely manner. For sick pets, rapid results allow us to start treatment for you pet sooner. But don't forget, "normal" results are actually good news! This means we are able to proceed with elective surgery or prescribe medication that will benefit your pet. Some pets will require intermittent blood test to monitor their medical condition or to ensure the medicine they are receiving is not causing ill effects.
---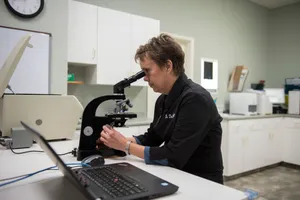 Our RVT is an integral part of our laboratory as she is responsible for analyzing urine and skin cytology samples obtained from our patients.
Cytology is the science of looking at and identifying cell types under the microscope. We perform some cytology in-house and send other samples to the pathologists at Idexx.
By coordinating our on-site diagnostics with the expertise of an off-site laboratory we are able to provide a comprehensive approach to your pet's medical needs.