We take great pride in providing thorough professional dental cleanings (prophylaxis) and dental surgery for our patients. Our dental suite is outfitted with digital dental x-ray in order for us to better serve you and your pet. Read below to gain insight into the importance of dental care for our pets.
Did you know that your dog and cat's teeth are quite similar to your own?
The principal difference between our pet's teeth and our own is size and shape; otherwise they are essentially the same as human teeth. Like human teeth, your pet's teeth should be brushed at least once daily as tartar and plaque starts forming 6-8 hours after a dental cleaning or brushing.
What is periodontal disease?
Periodontal disease is inflammation or infection of the gums surrounding the teeth. According to the American Veterinary Dental College, "by three years of age, most dogs and cats have some evidence of periodontal disease." Initially, some redness can be seen at the gumline, we know this as gingivitits. As the disease progresses to a severe state, teeth become loose due to the breakdown of the bone that anchors your pet's teeth.
What are some signs and symptoms of dental disease?
Inappetence
Halitosis (a.k.a. bad breath)
Head shaking
Pawing at mouth
Excessive drooling
Reluctance to "mouth" toys
Dropping food (food apprehension difficulty)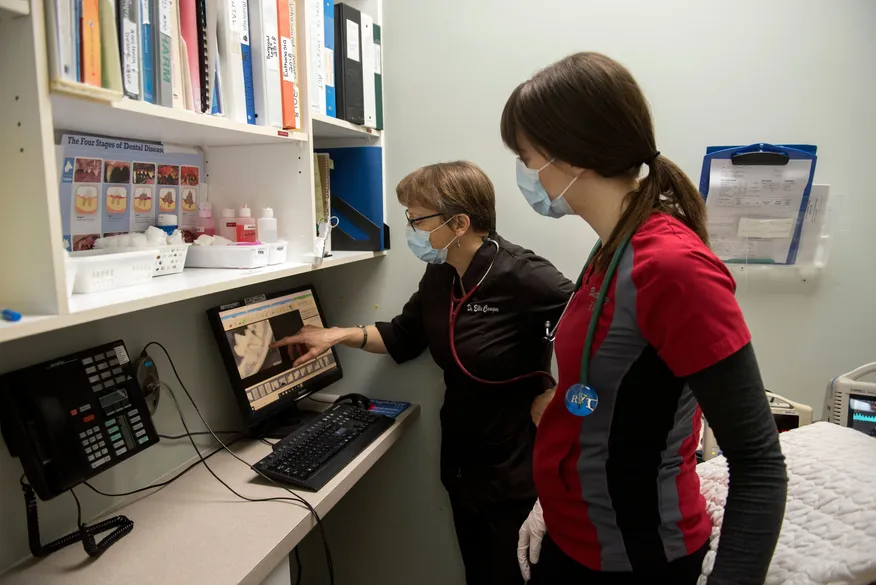 Dental radiographs, what's that?

Dental radiographs are x-rays taken of your pet's mouth. These pictures give us a thorough understanding of the health of your pet's tooth; including its root structure and the surrounding bone. It's important to take dental radiographs to ensure the removal of unhealthy teeth. These unhealthy teeth may not appear problematic at the moment but would have to be removed within a matter of time, due to deterioration. Dental radiographs could save you another visit to the veterinary clinic!
Before and After Photos - Coming Soon!

Take a look at our patients' teeth before and after a dental cleaning. Many patients with dental disease show vast improvement in mood, behaviour and food habits after a dental visit!